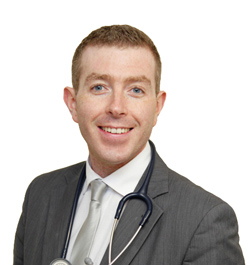 Dr Michael Moloney
MB, BCh, BAO, DOWH, MICGP, BMedSci, MMedSci (Sports & Exercise Medicine)
Dr Moloney is accredited as a No Scalpel Vasectomist with the Association of Surgeons in Primary Care
Dr Michael Moloney graduated from UCC in 2005. He subsequently underwent specialist training in General Practice. Dr Moloney has a special interest in the area of family planning and womens health. He has completed a Diploma in Obstetrics and Womens Health in the Royal College of Physicians. Dr Moloney has undertaken extensive training in the process of vasectomies and has received training from the renouned Dr Laurel Spooner.
Dr Laurel Spooner is the president of the Association of Surgeons in Primary Care and a member of the Council of the Association of Surgeons in Great Britain and Ireland. She was a pioneer in bringing the 'No-Scalpel Vasectomy' (NSV) technique to the UK in the 1990s and has performed over 10,000 vasectomies.
In 2015 Dr Moloney undertook a trip to the Philippians with Dr Spooner and No Scalpel Vasectomy International with the aim of providing free vasectomies to developing areas with little family planning options.
Vasectomy Kerry is the only provider of No Scalpel Vasectomy in Kerry.
Dr Moloney established Killarney Medical Centre in 2011 along with Dr Michael O'Doherty. The Killarney Medical Centre offers a range of services including specialist clinics and general practice services.
Dr Moloney also specialises in Sports and Exercise Medicine. He has completed a masters in Sports and Exercise Medicine in UCC and has experience with many different athletes and teams. He was doctor to the 2014 all Ireland winning Kerry senior football team as well as current doctor to the Irish International U17 football team.